UPDATE: A 5.3 magnitude aftershock was registered about 8:00am this morning near the original quake. Also the original quake has been re-evaluated to a 6.2 magnitude.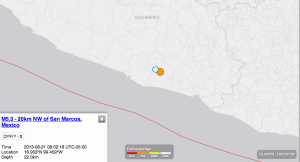 A 6.2 magnitude earthquake shook Estado Libre y Soberano de Guerrero in Mexico this morning around 7:30am.
Preliminary reports show the quake to be 34km deep and centered about 11 miles northwest of Ayutla de los Libres, Mexico – or about 85 miles east of Acapulco.
Details from the USGS can be found here.
Based on the "Skae Map" available from the USGS, the earthquake was felt mainly in El Ocotito, Ayulta, Las Vigas and San Marcos. Some shaking was likely felt Acapulco, too.