In a recent study from Scientific North America Journal of Science a group of geologists linked southern plains and southeast shower times to tornado frequency.
In a quote from the findings:
The longer people shower the more water vapor escapes into the atmosphere. And water vapor leads to more thunderstorm activity.
The idea is that with the population continuing to grow that more people turning liquid water into water vapor leads to an increase in available moisture for thunderstorms to use. The scientists did not look into people watering lawns but did mention that too could be a contributing factor.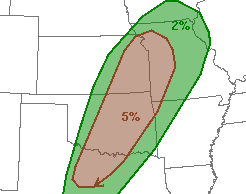 The researchers also noted that as climate change continues to warm the planet and change the dynamics of the atmosphere this new information shows that the threat for tornado outbreaks could double in the next 15 years as more people move to the southern plains and southeast move to larger cities.
In fact, the geologists warned that as more people move to larger cities and shower in larger cities the threat for more tornadoes near those larger cities increases.
Though, they did say that given the prevailing winds the large cities shouldn't be concerned about tornadoes moving through the cities, but rather, forming just to the east where the atmosphere is more conducive to tornadic development given the increased moisture supply.
Here's a link to the study: Tornadoes linked to shower time