Well, not quite.
This is an "old wives tale" that a lot of gardeners and farmers still use. And it is circulated with varying specificity. Some say that if there is any thunder in February, it will frost in April. Others that the day that you hear thunder in February, that that same day in April will have a frost. While even some say that the thunder in February means a freeze in April! A freeze!
This stuff matters
No doubt! I know a lot of folks that experience storms in February and hold off planting until May because they are concerned about a frost, freeze or otherwise.
I have good news and bad news.
Good news: The claim of a frost after a storm is false.
Bad news: But not fully false.
Really, this is a two-fold problem. The first fold: it is a situation of confirmation bias. People want it to be right, so people bend the truth to make it right. There was thunder on February 15, and, well it got down to 37 on the 17th of April. That is close enough. So it is valid.
But, it isn't.
It is the same way with the Farmer's Almanac forecasts. People want it to be right. When it calls for a week of cool weather, and it is average – but during the winter so it feels cool – people say it is right. The opposite is true in the summer. My favorite forecast from the Farmer's Almanac for south Mississippi is "warm and humid, thunderstorms possible" for August.
August? Storms possible? Hot? Humid?
You don't say!
My second favorite is during the first week of September when it says "Hurricane Threat" for the southeast.
Well, seeing as that is the peak of Hurricane Season, I suppose that is true. But that is like "predicting" the sun will rise tomorrow. Or that what you throw up will come back down. It isn't much of a prediction if the outcome is rooted in scientific truth.
But I digress.
The fact is: Every February dating back to 2000 has featured a rumble of thunder in south Mississippi. And I would bet that every year prior to that as well. So, regardless of thunder in February, there is a chance for a frost in April across a lot of the United States (save, perhaps the immediate Gulf Coast and most of Florida).
Give me some data!
Let's speak to the folks that think that specific days match up. Because that is going to be an easy one to compare.
Last year for Hattiesburg, there was severe weather on February 23rd.
On April 23rd? High of 81, low of 51. No frost. No freeze.
In fact in February of 2016, the Pine Belt endured multiple rounds of severe weather – weekly, and sometimes twice per week. Plenty of thunder. April's lowest reading on the thermometer? It dipped to 39 degrees on April 3rd.
And before you say, "But Nick! There were storms on February 2nd! So it is right!"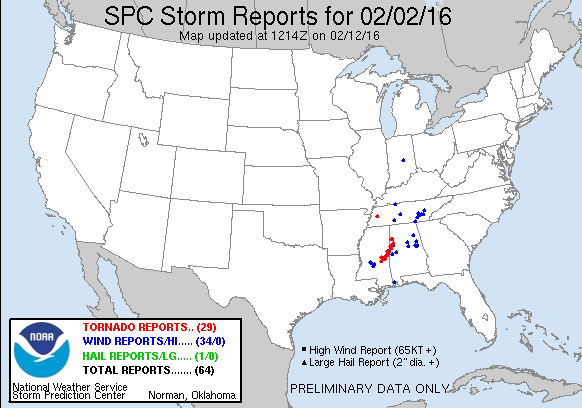 Confirmation bias, again. Remember, that 39 is not a frost, freeze or otherwise. It is just a bit cool. And it wasn't the same day. And the coldest temperature the rest of the month was 42 on April 9th.
And there were no storms on February 9th.
But that is just one year. Let's keep digging.
The previous year, 2015, was no different. Coolest day was February 5th. Low was 42. Meanwhile in February there were storms on first day of the month. And the 4th, 16th, 17th, 20th, and 21st, too.
Those same days in April?
| | | | |
| --- | --- | --- | --- |
| Date | Low | High | Precip |
| 1 | 59 | 82 | 0 |
| 4 | 48 | 74 | Trace |
| 16 | 67 | 80 | 0.59″ |
| 17 | 68 | 85 | 0.02″ |
| 20 | 52 | 78 | 0 |
| 21 | 50 | 78 | 0 |
Not convinced? Okay.
In 2014, the only day in April that was close to a frost was April 16th. The low was 35 degrees. On February 16th, 2014? It was 73 degrees and sunny. Storms didn't arrive until the 20th.
In 2013, the coldest day was April 20th, it was 36 degrees for a morning low. On February 20th, it was 57 degrees with high clouds.
"But there was thunder on the 21st of February! See!"
Nope. Confirmation bias. A 36 degree low will rarely – if ever – produce frost.
The last April frost
In fact, the last April frost we had in south Mississippi was April 9th, 2000. February 9th of that year? 0.05″ of regular rain. February 27th was the only day with thunder that year.
So, since the year 2000, there has been one frost in April. That is one day out of 480. That is a 0.21% chance that any one day there is a frost. Or a 6.25% chance that any month has a frost.
I'm not suggesting that at the start of April you are always in the clear to plant. I just want to clear up that February thunder doesn't mean anything.
Bottom Line
Generally east of the Rockies and south of the Great Lakes there are thunderstorms in February. And in those same places, come April, there is a chance that cold air moves south. But the two are not connected. If a storm in February happens to occur on the same day as a frost in April it is happenstance.