As a deep area of low pressure lifts from Texas into the upper Midwest, a cold front will push through Louisiana, Mississippi and Alabama opening the door for showers, storms and severe weather.
Quick Summary
Storms will push across the region in two waves. One during late Saturday and into Sunday morning. Another Sunday afternoon/evening and into Monday. Originally, flooding was a major concern because forecast data suggested training may occur, where storms move – repeatedly – over the same areas. However, it appears now that flooding may not be as likely. Instead a quick round of severe weather – with heavy rain, frequent lightning, damaging wind, small hail and a few isolated tornadoes possible – will move through the region with lingers thunderstorm activity leading to the possibility of excessive rainfall.
From NOAA
The Weather Prediction Center has the region under a Marginal and Slight Risk for excessive precipitation.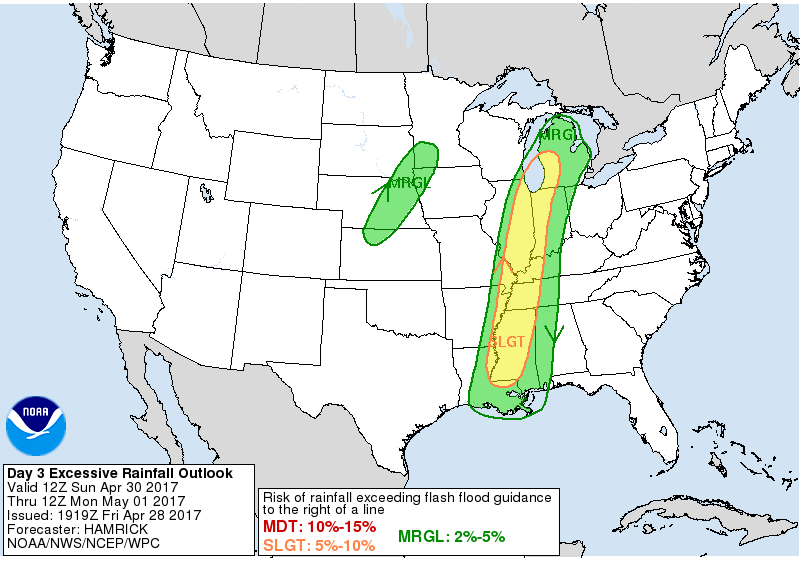 Rainfall totals on Sunday will be between one and three inches across the region with a band of three to five inches across parts of western Mississippi and east Louisiana and another across eastern Mississippi and western Alabama. Locally higher amounts – up to seven inches – will be possible.
The WPC suggested an upgrade to a higher risk may be possible: "FOR THE DAY 3 PERIOD, THE EXISTING SLIGHT RISK AREA WAS ELONGATED TO COVER MISSISSIPPI AND EXTENDING INTO SOUTHWEST MICHIGAN GIVEN SOME INCREASE IN MODEL QPF OVER THESE REGIONS, BUT NOT ENOUGH CONFIDENCE TO ISSUE ANY MODERATE RISK AREAS."
From the Storm Prediction Center:
Severe thunderstorms will be possible across portions of the lower/mid Mississippi Valley eastward to Alabama Sunday into Sunday night. Damaging winds will likely be the primary threat, but large hail and a couple tornadoes may also be possible.

SPC Slight Risk

With such an amplified system and strong meridional flow aloft, multiple areas of convection will likely be ongoing Sunday morning, with one or more north-south oriented bands of storms across parts of the lower/mid Mississippi Valleys, likely in advance of the surface cold front. Across the lower Mississippi Valley, these storms will push east across Mississippi, encountering fairly rich low-level moisture and moderate surface-based buoyancy. In turn, a threat for damaging winds and a line-embedded tornado or two is possible. This band is forecast to gradually weaken with eastward extent as it outpaces large-scale ascent and encounters increasing inhibition. Behind these storms, uncertainty exists with the potential for re-development of convection along the front (due to prior convective overturning). Nonetheless, a band of strong/severe storms may re-organize across parts of Mississippi and Alabama late Sunday into Sunday night. Convection would likely be focused near the front, primarily favoring a damaging wind threat. However, strong low-level shear could also support a couple tornadoes Sunday
night.
More to come!
Tomorrow, there will be an update on the severe weather threat as more data becomes available