Thunderstorms are likely Sunday during the day in South Mississippi. In fact, everyone east of I-55 and south of I-20 will have see a thunderstorm. That's right, everyone in that box will see a storm.
And while the chances that you see a thunderstorm are running between 90- and 100-percent. The chance that you see a severe storm are a bit lower.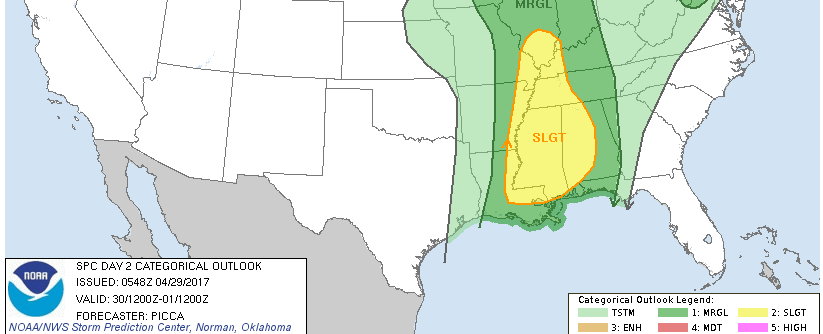 The Storm Prediction Center has the entire area under a Slight Risk. That is a "2" on that 1 to 5 scale, where five is the most severe. It looks like part of the area may eventually be put under an Enhanced Risk, too, before it is all said and done.
Nick, we don't have all day… when will it hit my house?
It looks like the data is in general agreement on timing. Here is an hour by hour breakdown from the RPM model:
Toward the last few images, notice that storms begin to break apart from a solid line. This will likely lead to a decrease in severity, but an increase in flooding risk.
But how bad will it be?
This is a question I get all of the time. Every time we have a chance for storms. And it is always difficult to answer. Because "bad" is pretty subjective. As someone who grew up loving crazy weather, bad to me is EF-3 tornado or baseball hail. To someone else bad might be, loud thunder that wakes them up at night or heavy rain that floods their street for an hour.
So, breaking it down objectively…
Storms will be very proficient rain producers. Storms will feature a lot of lightning. Storms will have some damaging wind gusts greater than 60mph. Storms will have some hail. Storms will have the capability to produce a tornado.
There are some stipulations, conditions, and limitations to that list, though.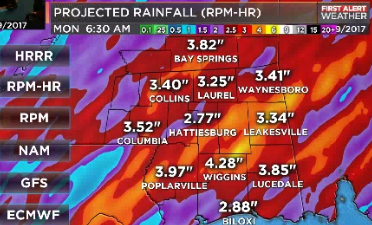 RAIN: The latest data suggests storms outrun the front on their way to south Mississippi. When storms do that, they tend to lose their 'umph' a bit. If that is the case (marginal sized if, here) the severity of the storms would decrease but, due to the very high precipitable water values, they would still be able to drop a lot of rain.
LIGHTNING: The storms will be pretty electric across the western counties. Places like Simpson, Lawrence and Walthall counties will likely deal with the most lightning. Up to 300 strikes every minute is possible in some of these storms.
WIND: On the leading edge of the storms wind gusts will be at their strongest. So, as the storms move through, in the first 15 minutes of the storms is when wind gusts to 75mph will be possible. Once it has been raining for 20 or 30 minutes, the wind will ease back to a more manageable 25 to 40 mph.
Keep in mind, a 75mph wind gust can rock a mobile home if it isn't secured properly. And, if the wind hits it just right, could even move it off its foundation.
HAIL: While hail is possible, big hail does not look likely at all. Because we are so moist through the profile, small hail (penny- or dime-sized) looks like the most likely.
TORNADO: While a tornado can't be ruled out with a supercell thunderstorm that develops within the line of storms, the threat for long-track and completely devastating tornadoes is on the low end. Based on the latest data, if a tornado were to develop within the line of storms, an EF-0  or EF-1 would be most plausible. An EF-2 is possible, but not as likely. It would be even more difficult for anything stronger to develop.

Damage common during EF-0 and EF-1 tornadoes have wind speeds between 65 and 85mph (EF-0) and 86 and 110mph (EF-1). Damages from these tornadoes are things like: blown down trees, blown over fences, shingles taken off roofs, broken windows, damage to carports and out-buildings, barns and sheds blown over,  and considerable damage to mobile homes.  These are dangerous, no doubt, but so long as you are in a safe place (preferably not in a mobile home) while it passes, you should be make it through.
An EF-2 tornadoes are more dangerous. These are the kind that lift off roofs, completely destroy small buildings and mobile homes, and can even damage large buildings like hospitals and schools.
Any chance is falls apart or goes north or doesn't bother us?
There is a chance that the storms lose a bit of their punch, but we are still looking at a really good shot for a lot for rain, a pretty good shot for strong storms, a decent shot for severe weather, and a low chance for a tornado.