6/15/17 10AM UPDATE: The NHC has increased the likelihood of development to 50%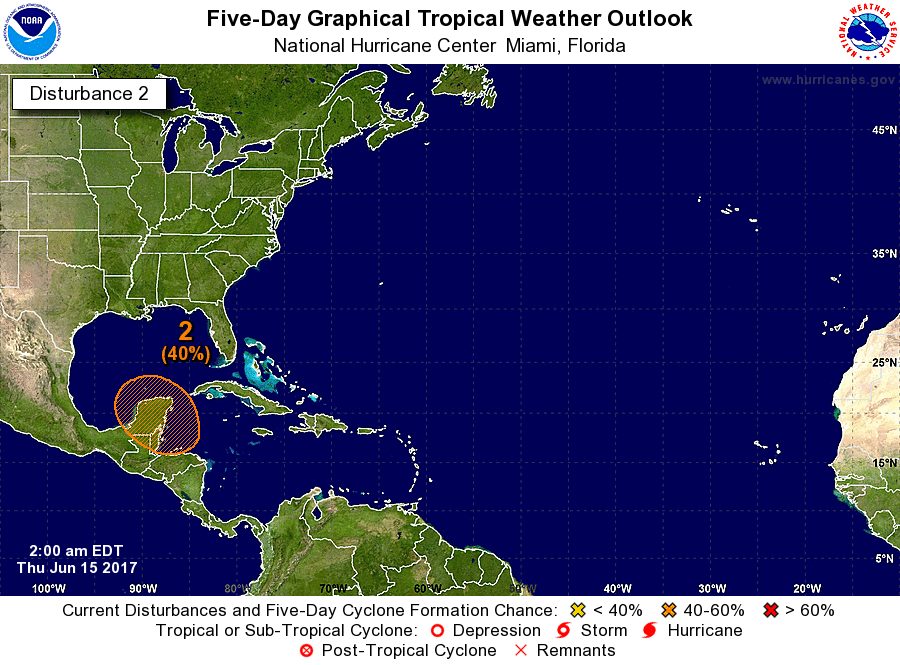 The National Hurricane Center 2 A.M. update suggested the chances of development in the Gulf is increasing.
The increase, to a 40% chance of development, actually highlights an area that has a zero-percent chance of development during the next two days.
Most computer weather models continue to show some semblance of organization – but nothing robust at this time.
The area the NHC is watching has been showing some sort of development in both the GFS and European computer weather models for the last week – or more.
Here is the latest from the NHC:
A complex area of low pressure is expected to form over the
northwestern Caribbean Sea and the adjacent Yucatan peninsula by the
weekend. Conditions appear to be favorable for some development of
this system while it moves slowly northwestward toward the southern
Gulf of Mexico by early next week.
* Formation chance through 48 hours…low…near 0 percent.
* Formation chance through 5 days…medium…40 percent.
The best news to offer at this point is there will be no direct impacts to anywhere in the United States through the next five days. And perhaps even at all. Most of the same computer weather models mentioned above sends it – whatever develops – into Mexico.