Here is the latest from the National Hurricane Center…
Tropical Weather Outlook
NWS National Hurricane Center Miami FL
800 AM EDT Sat Jun 17 2017

For the North Atlantic…Caribbean Sea and the Gulf of Mexico:

1. A tropical wave located about 1500 miles east-southeast of the southern Windward Islands is producing scattered showers and thunderstorms. This disturbance has changed little in organization since yesterday. However, some development is expected during the next few days before conditions become less favorable for tropical cyclone formation. This system is expected to continue moving toward the west or west-northwest at 15 to 20 mph over the tropical Atlantic during the next several days.
* Formation chance through 48 hours…medium…40 percent.
* Formation chance through 5 days…high…70 percent.

2. A broad trough of low pressure is producing a large area of cloudiness and showers over the northwestern Caribbean Sea and the adjacent land areas. Conditions appear to be favorable for gradual development of this large disturbance while it moves slowly northwestward across the Yucatan Peninsula this weekend, and a tropical cyclone could form early next week over the southern or central Gulf of Mexico. Regardless of development, heavy rains are likely to spread over portions of Central America, the Yucatan Peninsula, Jamaica, the Cayman Islands, and western Cuba during the next several days.
* Formation chance through 48 hours…low…20 percent.
* Formation chance through 5 days…high…70 percent.

Forecaster Beven
Model guidance continues to suggest the first wave, already classified as "Invest 92L" by the NHC, in the open Atlantic will not pose much of a concern to the United States during the next week – if ever.
Any kind of drastic, sudden strengthening isn't likely, either. It is pretty early in the year for tropical systems to develop that far east.
Meanwhile, near the Yucatan, the model guidance is becoming a little more robust with the development of the wave moving into the Gulf of Mexico.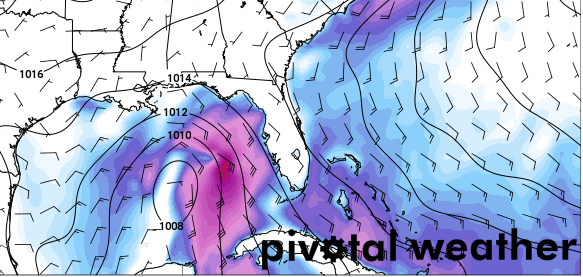 Latest model guidance pushes the wave into the central Gulf, and tries to develop it. However, beyond 72 hours into the future, models diverge greatly on track and strength.
The GFS wants to move it north-northeast. The GFS-parallel does roughly the same. The European pushes it mostly west. The NAM moves it northwest. The GEFS rips it apart. The EPS moves it due west. The Canadian moves it north-northeast.
All of these movements happen with a storm at differing strengths.
Both storms warrant further investigation, still no time to panic or worry.