Tropical Storm Harvey, now back over the Gulf of Mexico, continues to wobble its way toward Louisiana. As of the latest update from the National Hurricane Center, Harvey is now moving ENE at 3mph.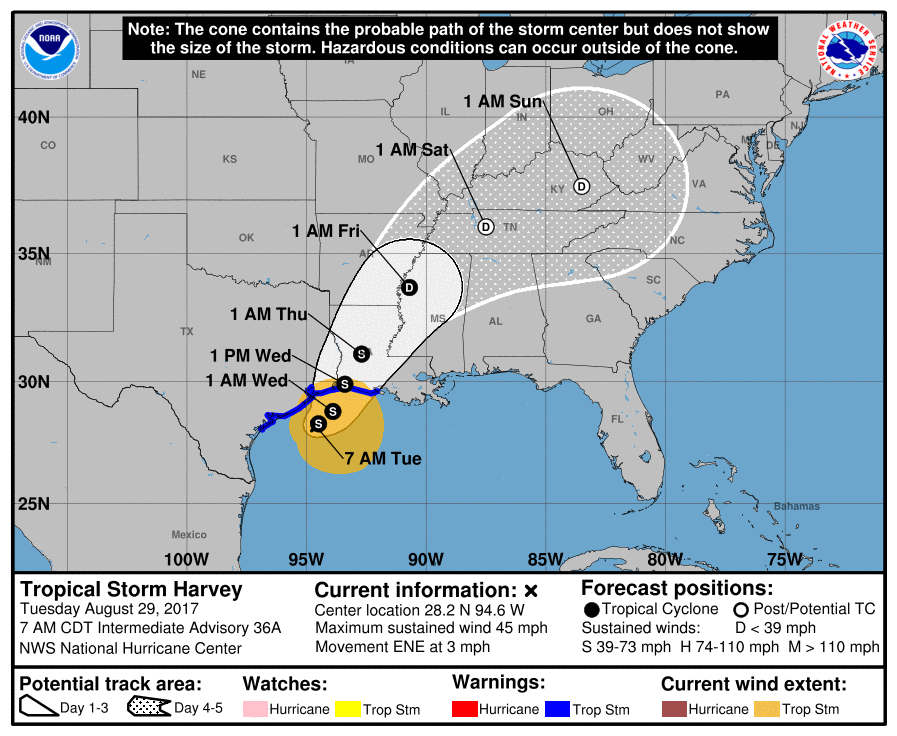 The storm has mad it a pretty decent distance out into the Gulf, but due to all of the rain Harvey dumped over the area during the previous five days, the water temperatures have cooled quite a bit. Re-intensification to a hurricane is not anticipated.
The forecast track moves Harvey toward Louisiana, with the estimated landfall near Cameron. But the impacts from Harvey will be realized elsewhere, too.
Notice how open the storm looks in the image above on the right. It is a shell of its former self. In the loop below you can see how the center of circulation is disconnected from the convection. Most of the heaviest rain is falling on the north side of the circulation or in the outer bands moving toward Louisiana and Mississippi.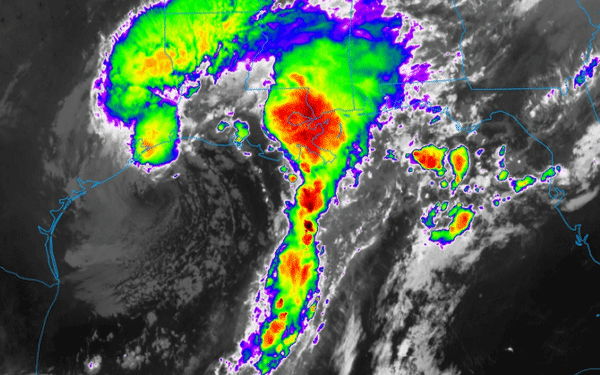 The rain will continue to those close to the center and on the north and northwest side as well as in the outer bands.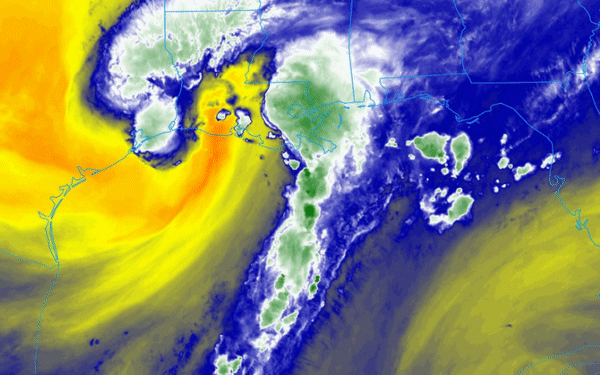 Notice the brighter yellows and oranges in the above image. That is dry air in the mid-levels of the atmosphere that Harvey is ingesting. That is the reason that intensification isn't anticipated. It is possible, but not likely, probable or even concerning. This storm needs a hard reboot in order to get established again. So, even if some strengthen occurs, there isn't enough time and warm water for it to truly wrap itself back up before it makes its second landfall.
Regardless, heavy rain along the Gulf Coast from Houston, Texas to Pensacola Florida.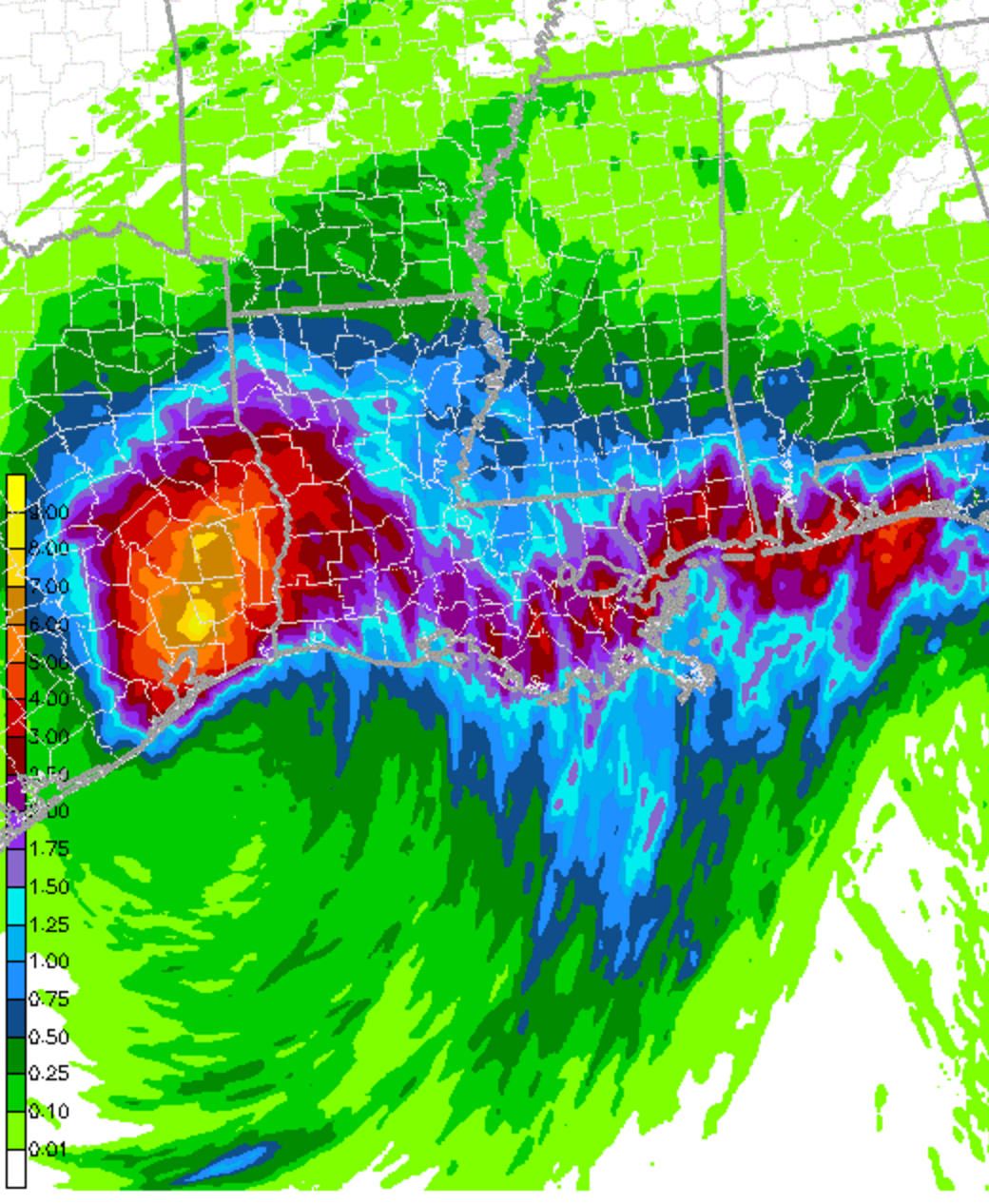 Because of the anticipated rainfall, the National Weather Service has issued Flash Flood Watches for a handful of counties along the Gulf Coast. The Weather Prediction Center has issued multiple Mesoscale Precipitation Discussions this morning and will likely continue to for the rest of the day, highlighting areas preparing to receive the heaviest precipitation.
The WPC also issued risk levels for the next few days for excessive precipitation. They put this image on their facebook page: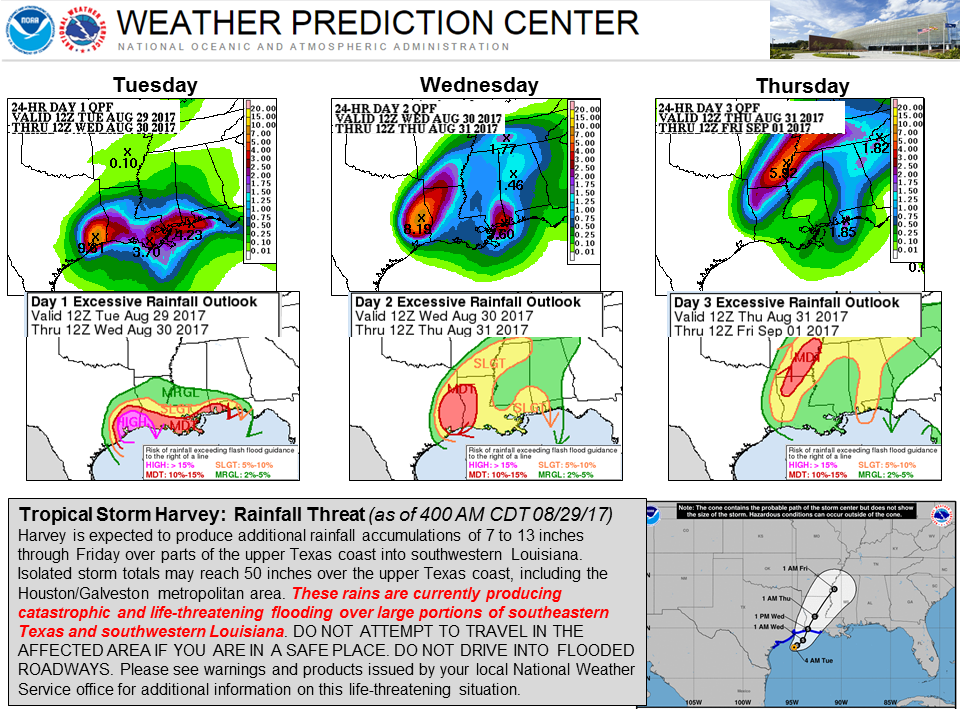 It isn't just rain, though. Severe weather will be possible, too. Along with wind and rain, landfalling tropical systems can spawn tornadoes and produce some small hail. The Storms Prediction Center is also watching Harvey. The SPC issued outlooks this morning for the next few days highlighting areas that could see severe weather.