The 2017 Hurricane Season isn't done yet. To quote Jay-Z it "is back before we had a chance to miss [it]," though I don't know if any of us would "miss" hurricane season.
Anyway! Newly minted Tropical Depression 16 is drifting around in the southern Caribbean off the coast of Nicaragua and Costa Rica.
Near the island of San Andres.
I wanted to take a few minutes to answer a few questions I've received. As well as some that I bet some folks are wondering.
Where is it going?
As it lifts north it may interact with land today and tomorrow. Most model guidances takes the center near the coasts of northeastern Nicaragua, eastern Honduras before drifting between the Yucatan and Cuba, and into the Gulf of Mexico by Friday
As it moves north, it will be traversing very warm waters.
Notice the darker blue shaded areas near the coast of Latin America. The interaction with land and run-off-cooled waters along the coast of Nicaragua may slow initial intensification. That, coupled with localized stronger shear values, may help to keep Tropical Depression 16 in check for the next 24 to 48 hours.
While it still looks like we will have Tropical Storm Nate by Friday morning, the mixture of the above limiting factors may help keep it as a tropical storm instead of a hurricane.
Beyond Friday, models tend to diverge. Some sending it north-northwest toward Louisiana. Others have it move a bit to the north then turn northeast toward Tallahassee. Others split the difference somewhere along the Mississippi or Alabama coast.
Right now, it is too early to tell.
How strong will it be?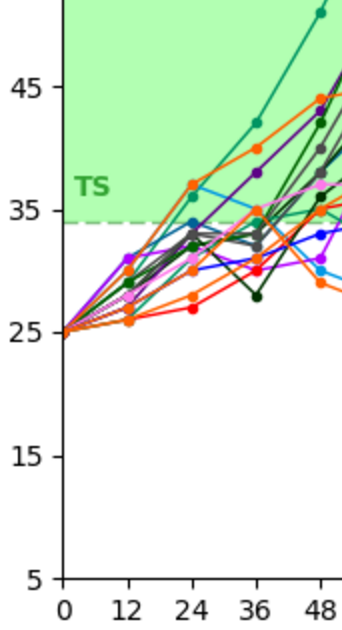 Sadly, we just don't know, yet.
General model consensus has it as a Tropical Storm as it enters the Gulf of Mexico on Friday. The latest model guidance is to the left. Not that some of the lines show wind speeds of a moderate / strong tropical storm, while others show wind speeds of a tropical depression.
Also, instead of showing the whole graph from Tropical Tidbits, that is just a chunk of the first 48 hours.
Why?
Well, until it gets a closed low and starts the process of development as a Tropical Depression, making forecasts on intensity can be quite the endeavor in futility. Especially beyond 48 hours.
The only thing we can say with any certainty at this point is that between now and Friday morning, development of a tropical depression is likely. Very likely. Development of a tropical storm is probable.
How strong it gets after that point is still up in the air.
Is the National Weather Service or National Hurricane Center doing anything special for this?
Not yet, but the Hurricane Hunters are scheduled to fly down into the Invest to Investigate it. Once they get in there, chances are it will get an updated designation shortly thereafter.
I live near the Gulf Coast, what should I do right now?
Review your hurricane plan. Double check your supplies. There is no need to go out and buy gas, or raid the stores for water. Because we don't know where it is going yet, nor how strong it will be, you could be wasting a lot of time and energy if you try to make preparations now.
So, it is okay to hang tight. Or in the words of Aaron Rodgers: "R-E-L-A-X."
As he said, it is going to be okay.
Keep checking back with the forecast every six to 12 hours. That is when we get new model data in and can update the forecast. but for now you can rest easy.
I read on the 'Accurate Weatherman Authority Storm Hunters' Facebook page that it is coming right for me, and its going to be a Category 5 worse than Katrina and Irma combined
I bet you did! And I bet it had a scary picture of a giant hurricane. And they gave a link for you to click, too, didn't they? With a website full of ads!
Some people kick out scare-you-half-to-death forecasts to get you to share it and click the link so they get ad dollars. Others just like the attention of seeing a facebook post with thousands of likes and shares – they don't care if it is right.
Find a trusted source for weather information. Find one that has YOUR interests in mind, not theirs. You can usually tell if someone has you in mind by the headline: If the headline sounds like something written to raise your blood pressure, it was probably written that way for a reason. I would argue someone trying to raise your blood pressure probably isn't putting you first.
I've built a few pages (HERE and HERE) here that offer data direct from the National Hurricane Center. And – as most of you know – I offer one of the only no-hype tropical weather forecasts out there to keep everyone's anxiety levels a bit lower.