A cold front is set to move through the ArkLaMiss Friday afternoon, setting the stage for a muddy Football Friday. There is the chance for thunderstorms, which would (and should) put some of the games on hold for a while. And while some strong storms are possible, widespread severe weather isn't anticipated.
Model Data shows…
Well, it is a bit up in the air, right now. Depending on which model you look at, the rain could begin as early as 2pm or as late as 7pm. The storms could stick around through midnight, or fizzle out by 8pm. Some model data shows severe weather. Other model data says cold rain.
So let's cut through the junk.
Here is a look at the RPM model data for clouds and precip for Friday at 1pm, 4pm and 7pm:
Notice that while the storms seems to become more widespread, the line of cloud cover and overall rain doesn't propagate east much after 4pm.
The NAM-3K model data shows something similar:
These two models tend to do a pretty good job with shorter-range modeling for showers and storms. And since they are both saying something similar, I'm inclined to believe what they are suggesting. That said, because the rPM uses some of the NAM in it's algorithms, we need another det of data to check.
So, just to make sure, I want to check with a model that isn't connected to either: The SREF.
The SREF model is used by the Storm Prediction Center when forecasting severe weather. It tends to do a pretty good job with showers and storms, too.
It shows something similar, too:

The SREF shows rain beginning around 21z (4pm-ish) on Friday, continuing through 6z (midnight-ish) on Saturday.
Anything severe?
There is a chance for a severe storm here or there, but the threat isn't widespread and trying to predict if a storm will turn severe in the environment on Friday is difficult as most of the parameters shown in the model data are pretty marginal.
There won't be much instability, the shear will be in the mid- and upper-levels, helicity values will be on the low end, and surface dewpoint numbers will be on the low end, too. In the lower atmosphere, 850mb temperature and dewpoint numbers don't look impressive either.
10/26/17 10:00AM UPDATE: The Storm Prediction Center has issued a Marginal Risk for severe weather for parts of Mississippi for Friday.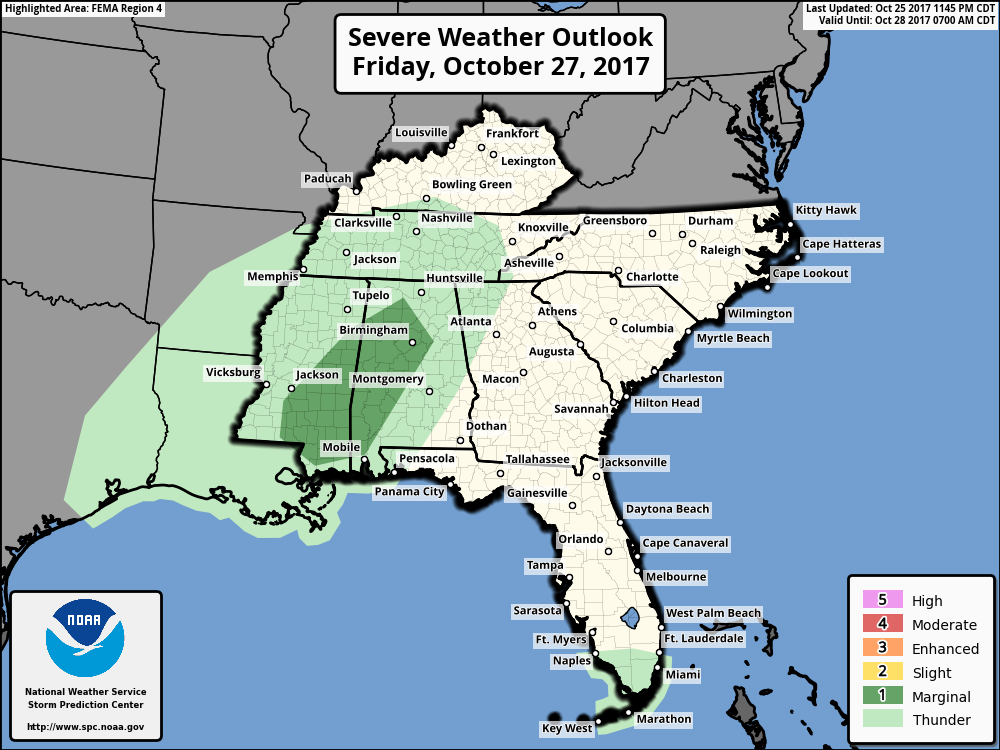 So do I bring an umbrella of what?
Depends on where you are, but in general, I think so. I also think that some of us may be  at a game that gets delayed due to lightning. Below is a look at the chance that you end up with rain at your football game.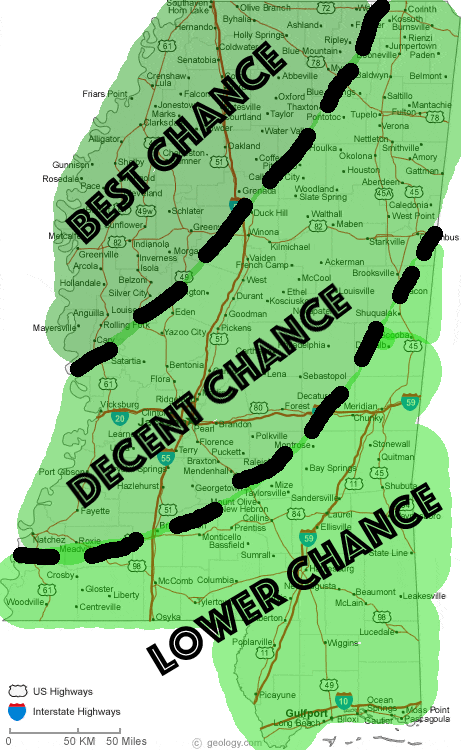 Notice that – on my low budget map – no matter where you go in the state, there is still a chance for rain during the games on Friday night.
So bring the umbrella. And know where you would go if a Severe Thunderstorm Warning was issued.
Okay, will do. But how cold will it be?
Actually, not bad. Temperatures should be in the 60s for most of the state as the cold front doesn't pass through until after the games are all over.
By Saturday morning, though, it may be pretty chilly.