Reading a Skew-T chart is really easy once you get accustomed to the layout. It is just like reading a line graph, only part of the chart is at an angle.

Really, you only need to worry about two lines. The red line is the temperature line, the green line is the dewpoint. When they are really close together like this, it means the atmosphere is saturated. And chances are, it is raining.
When the lines are far apart, the atmosphere isn't saturated. And can be quite dry.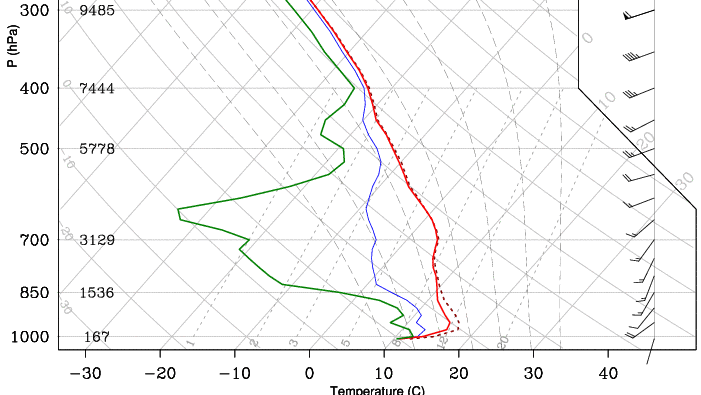 In this Skew-T there is a layer of pretty dry air just above the surface, and up to about 600mb.
The numbers (1000, 850, 700, etc) on the side are altitude in the atmosphere based on air pressure, millibars. The 1000 is near the ground while the 300 is roughly 20,000 feet up. The numbers on the bottom are the temperature in Celsius. And the lines connect the temperature at different altitudes. But it isn't read like a normal line graph. The temperatures are slanted right at an angle(You just follow the shaded grey line).
In the above example, the temperatures are as follows
Surface: 11C
850mb: 10C
700mb: 5C
500mb: -12C
250mb -50C