New data is coming in, and here is an updated look at what to expect for New Year's Eve. If all you want is the numbers, swipe/scroll to the bottom. For an explanation as to why we are giving this forecast, continue reading!
A brief note about model data
Medium-range forecasts can change every – roughly – 6 hours. Computer models on NOAA supercomputers are able to crunch data and kick out approximations of the atmosphere every few hours depending on which model each supercomputer is responsible for. The GFS computer weather model kicks out new "operational" data every six hours (though, the model data that comes out every 12 hours is more reliable).
Across the Atlantic, the ECMWF computer weather model kick out new "operational" data, meteorologists and forecasters dissect the data and make updates to the forecast.
But the latest available "operational" data isn't always the best data. This is why I caution everyone about rogue maps floating around social media projecting some crazy blizzard in places unaccustomed to seeing such weather. Just because a computer model showed it once, doesn't mean that it is the best data. I'm sure you've heard the expression "%&$# in, %&$# out" before. It is true for computer weather models, too.
Keen forecasters will look at operational model trends, "ensemble" data and analogs to come up with a more accurate forecast.
Models show that…
Here is a look at the last six runs of the GFS computer weather model. Notice anything?
The trend in the GFS computer weather model operational data suggests a drier day Sunday (New Year's Eve) than the data was showing just a few days ago. A drier day doesn't mean it will be completely dry, but rather, that the rain may be harder to come by on the leading edge of the front.
It also means less precipitation leftover to fall (as something frozen / freezing) after the cold air settles across the area.
Even the short-range NAM computer weather model is suggesting a drier day Sunday as the cold air moves through.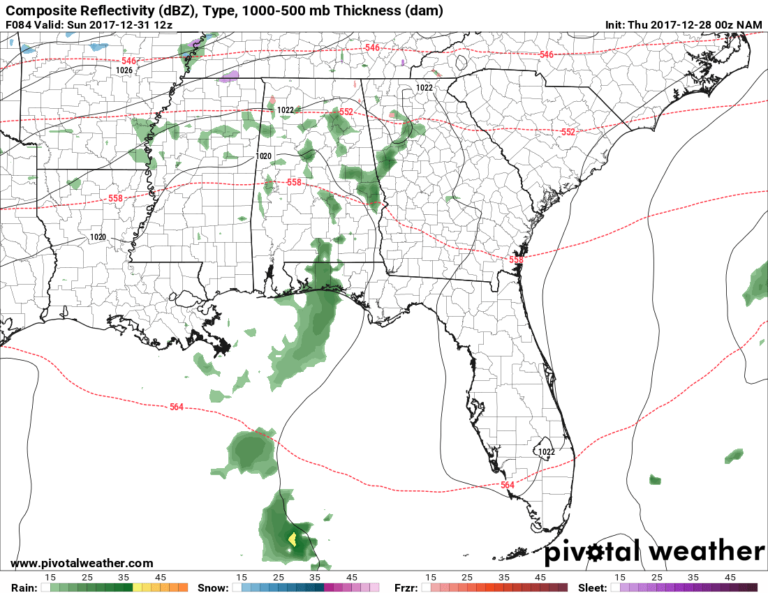 The ensemble forecasts show a slightly better chance for more meaningful precipitation, but the GFS computer weather model ensemble data from the 12z run on Thursday, December 28th doesn't show much compared to just two days ago.
12/28/17 12z data (latest data):
12/26/17 00z data (two days ago data):
Things are trending drier there, too.
As an aside, this is why on the 7-day forecast, you rarely see me put a high chance for rain on day 6 or day 7, unless I am VERY certain. Models tend to fluctuate as we get closer and closer to a specific date. This is also why I always say 'find a trusted weather source' for adverse weather. Even if it isn't me! Find someone that values your peace of mind, not just their own popularity.
But what about the analogs? The CIPS Analogs are a trusted place to see "what happened last time" the atmosphere looked similar to this.
Dry there, too. So perhaps, we are looking at a much drier frontal passage than was originally indicated by the data just a few days ago. But is that consistent with other data? Do we have corroborating evidence? This is important because there are times when the model map data for precipitation DOES NOT match the actual atmosphere. I've seen model maps showing snowfall for south Mississippi, but the temperature is 50 degrees and there is no moisture anywhere in the atmosphere. It happens more often than you'd think.
Drier also means colder!
Because water has a higher specific heat (Chemistry FTW!) it is more difficult to change its temperature. So when you dry out the air, you make it easier for that air to change temperature. Plus, the moisture in the air is often times from the Gulf of Mexico (warm), so when you cut off that flow, you in turn, cool the area down. More on cooler temperatures in the forecast below…
Corroborating evidence
Because we are talking about precipitation, let's start at the bottom (surface) with the dewpoints. A lot of times, we are looking at hte dewpoint to figure out if we will see severe weather in south Mississippi. Dewpoint is a measure of how much literal moisture is in the air (it is a bit different than relative humidity). the higher the dewpoint, the more moisture. The more moisture? The easier it is to get rain.
A couple of days ago, when things were looking like there might be more rain, the dewpoints would've needed to be higher. So let's see what they looked like…
Not bad. Surface dewpoints in the 40s and 50s would support the development of rain with a frontal passage. The moist air would be lifted by the cold front and eventually it would precipitate.
The Skew-T should show this, too.
And it does! I like to look at the Skew-T for things like this. It shows a saturated atmosphere (the green line and the red line are close together from bottom (surface) to top (way up in the atmosphere) on Sunday afternoon.
What about now, though? We have established a trend (noted above) that things are looking drier. Is there evidence to support that?
Booyeah! This now shows lower dewpoints – in the 30s – for Sunday afternoon. That is much drier air. So even if a front comes through, it will need more forcing/energy to develop precipitation.
The easiest way to get more forcing/energy would be an area of low pressure nearby to offer a localized source of lift. But that isn't in the cards (never has been). If there was a bigger shove of cold air south in parts of west Texas, though, the resulting rebound of the low-level winds downstream near us, could offer enough 'umph' to get something going, though.
Is that happening?
A bit, but it isn't far enough south to create enough of a recoil.
So, that leaves us with a drier forecast.
The forecast for south Mississippi
Just in case you skipped to the bottom, please know that this forecast continues to evolve. This forecast now is being made given the latest available data. Things won't likely change much, but because it is wintry weather, even a slight shift could mean big changes in impacts.
Sunday
Cloudy with hit and miss showers. Rain chance around 40 percent with rain totals around 0.5″ to 0.75″ by 9pm. Temperatures will top out around 50 in the early afternoon. Temperatures drop quickly at night.
IMPACTS: Wet roads, cold temperatures, nothing icy
Sunday night
Lingering light rain showers may mix with sleet, but snow and freezing rain aren't as likely. Rain chance around 30 percent. Temperatures should remain (barely) above freezing through midnight when the ball drops. Overnight temperatures will drop to around 30. Rain totals will be less than 0.10″ during this timeframe.
IMPACTS: Wet roads, cold temperatures, some elevated – less traveled – surfaces may be icy
Monday morning
Any lingering precipitation will fall as sleet. Rain chance around 20 percent. Temperatures will be in the low 30s. Precipitation totals will be less than 0.10″ during this timeframe. The good news is the air that is moving in is very dry. That should evaporate a lot (but not likely all) of the moisture on the roads.
IMPACTS: Below freezing temperatures, some elevated surfaces may be icy
Monday
Clearing skies, with temperatures climbing to around 40 degrees. Rain chance less than 10 percent. Any wet areas should dry up. No precipitation anticipated at this time.
IMPACTS: Cold temperatures